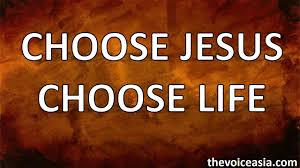 "And this is eternal life, that they may know you, the only true God, and Jesus Christ whom you have sent."  John 17:3 (NRSV)
Many people have the wrong perspective on what it means to live and about the essence of life.  They believe that life is just breathing, moving and existing on this Earth.  They think that they can make their lives better by simply getting more things, having better experiences and knowing the right people. And, while all of that does impact life on one level; that is not all that there is.  Not by a long shot.  Life is lived on many levels.  In fact, most of us know someone who is no longer physically alive, but yet and still their life is still making a great impact upon people and the world. When we come to understand life at its greatest level, then we can truly appreciate it on all levels.
True life, real life, is found in and by having knowledge of God and through a relationship with God's son Jesus Christ.  The choice is always ours.  We can simply exist or co-exist in this world or we can truly live by tapping into the greatest level of life. When we have Jesus Christ, we not only have life, but also we have abundant life and eternal life.  For, Jesus said: "A thief comes only to steal and to kill and to destroy. I have come so that [you] may have life and have it in abundance." (John 10:10 HCSB) Abundant life isn't for later; you can have abundant life right now.  Abundant life isn't defined merely monetarily, abundant life also means having the peace of mind and the power to appreciate our material substance or the lack thereof. Moreover, eternal life isn't what you get after you die. Life is eternal from the start and eternal life can be yours today.  Those who neglect to cultivate a relationship with God by obtaining life in Jesus Christ; choosing instead to pursue riches, fame, self-gratification and power will always be searching.  They will always be reaching for what seems to be right beyond their grasp.
By contrast, those who make knowing God and loving Jesus their priority, will find satisfaction even in the face of apparent lack. They will be able to grab hold to the unseen riches of peace, joy, strength, comfort, mercy, faith and grace.  These things are not stored in a bank account or box, but safely deposited into our hearts, minds and spirits.  Your internal reality is the barometer for how you will live.  The condition of your spirit, the quality of your thoughts and the beliefs of your heart have more influence upon your life than anything else.  Your perception rules.
Refuse to merely exist for one more moment. Decide to live and then choose to help others be free to do the same.  We may or may not be able to determine what happens around us. Nevertheless, regardless of the condition of life outside of us, we always have the authority within us to rise above that stuff and truly live in Christ. You do not have to wait to experience the abundant and eternal life that Jesus Christ has secured for you. You can have it all now, if you will just get connected and put yourself in a posture to receive. If you want it; it's yours.
"And this is the testimony: God gave us eternal life, and this life is in his Son. Whoever has the Son has life; whoever does not have the Son of God does not have life." (1 John 5:11-12 (NRSV))
http://www.joy4lifeministries.org/wp-content/uploads/2014/09/Choose-Jesus-Choose-Life-Pic.jpg
168
300
Joy4LifeMin
http://www.joy4lifeministries.org/wp-content/uploads/2013/04/Joy4LifeTextLogocropped.png
Joy4LifeMin
2014-09-30 11:52:34
2014-12-20 11:57:12
You Can Have it All Now!!