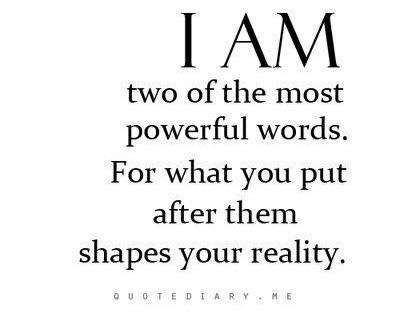 "I can do everything through Christ who strengthens me." Philippians 4:13 (GW)
We began this series on the power of the tongue by asking you to discern the soundtrack of your life.  What are the words, phrases and stories that continue to play over and over again in your mind and come out of your mouth?  We moved from there to asking you to be on guard about what goes into your mind and heart – for it is out of the abundance of the heart that the mouth speaks. (Matthew 12:34) Last week, we challenged you to use your authority to create and change your life and circumstances; simply by speaking the right words.  As this series ends, we encourage you to make practical additions to your thought life through daily affirmations.  These professions of faith, if made from a pure believing heart, can be the vehicle that moves your life to another level.
The thing to understand is that these are professions of faith.  Simply repeating words will not give you power.  The power comes because we believe that God is who God says God is.  And, we trust that God is able (and willing) to do what we say, by the name and authority of Jesus Christ. (See Hebrews 11:6)  The good news however, is that even if you have some doubt, you will find that your faith will begin to grow as you – with an open heart – hear the truth of God's word repeated over and over again.  So, it's a win-win.  Affirmations are a form of prayer that we repeat to God and there are promises tied to us having an active, faithful prayer-life. Understand this, we will not be able to create the better life that we want unless and until we draw closer to God through prayer and begin to obey God's word in every area of our lives. Affirmations are one element we can use during our time with God.
Over the next seven days, develop a short affirmation of faith, which you will begin to repeat daily.  The words of the affirmation should be drawn from the bible and it should cover every area of your life. Create a statement of faith regarding:
a) Your relationship with God – Everything is life flows from the quality of our relationship with God.  This should be the primary area of time and attention because God is the source of all grace, power, wisdom and strength.  What you profess in your affirmation should be some truth about who God is and who God says that you are. In addition, you can include a statement that reflects godly characteristics currently seen in your life, or which you would like to develop.  For example, you might say, "God You are my Salvation and Strength. I trust you with my life" and "I am fearfully and wonderfully made." (Statements of truth directly from Isaiah 12:2 and Psalm 139:14)
b) Your relationships with others – Healthy relationships do not just happen in our lives. Healthy relationships require discipline and a commitment to God's standards.  For this area, you might say, "I love others as Christ loves me." (Statement drawn directly from John 13:34) Couple that with, "The love I have for myself and others is patient and kind." (See I Corinthians 13:4)
c) Your finances and career – This is the area in which we often speak death instead of life because we get into the habit of saying what we currently see, when we should be saying what we want to see.  So you might say, "All of my needs are met by God's riches in glory in Christ Jesus." (Statement of truth drawn from Philippians 4:19) Couple that with, "I am experiencing promotion and increase in every area of my life" (See Psalm 75:6) or "God has opened the floodgates and is pouring out blessings upon me in abundance." (Statement of truth drawn from Malachi 3:10)
d) Your goals, dreams and visions for your life, your family, your community and the world – God wants to give us the desires of our hearts as we walk uprightly. (Psalm 37:4)  Moreover, God wants to partner with humanity to make the world a more just and safe place; where God is honored and every creation of God is valued and loved.  This ultimately happens through how we  live our lives, and as we've discussed, what we do is anchored in what we believe in our hearts and what we say from our mouths.  For this area, find truths and profess your vision to God.  Dream big! Nothing shall be impossible with God.
Affirmations are not magic.  They are also not a way to strong-arm God into accomplishing our random whims. Remember, God is indeed sovereign. While God certainly responds to our professions of faith, God does not act contrary to God's own character and will; no matter what we say.   Nevertheless, affirmations are a very powerful tool that when used correctly can change the course and direction of our lives.  Our tongues are a great source of power and hopefully after reading this series, we will all pay a little more attention each day to what we say and how we say it.
Ultimately, we should use our tongues as a way to do the greater works, which Christ has empowered us to accomplish on Earth.  So, pull out your bible, find some truths that you want to see manifested in your life; and say that truth.  Then, say it again, and again and again, until you have what you said.
"I tell you the truth, anyone who believes in me will do the same works I have done, and even greater works, because I am going to be with the Father. You can ask for anything in my name, and I will do it, so that the Son can bring glory to the Father.  Yes, ask me for anything in my name, and I will do it!" John 14:12-14 (NLT)
http://www.joy4lifeministries.org/wp-content/uploads/2016/05/IAM-quote-pic.jpg
400
400
Joy4Life Ministries
http://www.joy4lifeministries.org/wp-content/uploads/2013/04/Joy4LifeTextLogocropped.png
Joy4Life Ministries
2016-05-23 12:20:02
2016-05-23 12:20:02
Say That Again!